Have Your Ford Vehicle Serviced With Us!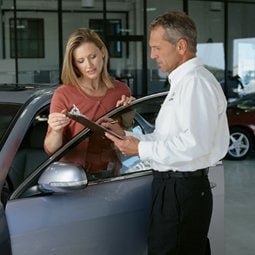 If you're looking to get your new Ford car, truck, or SUV serviced, then look no further than our on-site service center here at Nourse Ford in Chillicothe, OH! We are equipped to perform routine vehicle maintenance as well as some more complex repairs and replacements. This is the best way to get the most mileage as you make your way through Frankfort, OH, every day.
Regular Servicing Is Critical for Your Vehicle's Health
In order to make sure that your Ford is running at its best in Circleville, OH, it's important to keep up with its routine maintenance appointments. Although at times appointments are forgotten or it just takes forever to make one or find someone to do it for you. If it happens on a regular basis, then your vehicle could experience some major trouble later on that can either be extremely costly or worse, you could be left without a vehicle at all.
Don't let your vehicle suffer the consequences; take care of it and make sure to make your regular service appointments with us to ensure that it's performing at its best through Waverly, OH.
We Provide Quality Service
Whether you're needing regular maintenance done such as oil changes, windshield wiper changes, and tire rotations, or if you're needing a more serious fix, our on-site service center is capable of taking care of most of your Ford's servicing needs. Our team of certified automotive techs have years of collective experience with Ford vehicles and know how to take care of your vehicle, so you can rest assured that the job is being done right. All tasks are completed with only quality OEM parts that are made exactly for your vehicle to make sure that it works and runs properly across Washington Court House, OH.
Schedule Your Appointment With Us Now!
Stop in and see us here at Nourse Ford or contact us to make a service appointment and allow our knowledgeable certified automotive technicians to take care of your Ford car, truck, or SUV for you!